Bellissimo is an exclusive North American hat brand that stands for timeless unique design as well as outstanding quality.
At Bellissimo Hats, we are always updating our line of signature hat wear for both men and women. This means that you can expect new and interesting designs every season. In our "Featured Fedoras," you will find some of our most popular models and styles. These items not only reflect the hottest trends in men's and women's hats, but they also embody our dedication to providing the top fedora hats on the market.
Our high-quality fedoras exude luxury and sophistication — while also serving as great accessories to this season's latest fashion trends. So, if you are shopping for hat wear and could use some advice, take it from us; don't just wear any hat. Acquire a Bellissimo Fedora to stand out from the crowd and bring high fashion with you wherever you go.
All of our featured hats are individually designed and manufactured using high-quality fur felt. Sleek and modern, yet classic and refined, every Bellissimo hat is truly timeless. Whether you want an accessory to wear every day or something unique for special occasions, Bellissimo Hats has you covered. With dozens of ribbon, crown, and brim styles in various colors, you're bound to find something you like. So, let's take a look at some of our top fedora hats to see which ones speak to your style!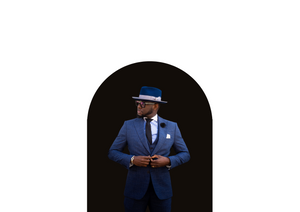 Do you want to continue making a statement with your accessories once the cold of winter has passed? If so, Bellissimo has gorgeous, fashionable hats to help you shine in the spring and summer sun! Whether you are looking for a suave fedora for men or a fun summer hat for women — we've got you covered.
While sun hats have been around in one form or another for centuries, they have become increasingly popular and fashionable over the last few years. Our wide-brimmed sun hats offer the perfect balance between design and utility. You can spend hours in the sun without risking exposure to your face and neck, while also looking your best wherever you go! Whether you want to spend the afternoon sunbathing by the pool or taking a hike through the mountains — a Bellissimo sun hat ensures that you can add your own personal sense of style to virtually any occasion!
If you are looking for more specific accessory options for the warmer seasons, look no further than our wide range of Panama straw hats and flat caps. Both of these product lines reflect classic international designs that will never go out of style. The Panama hat pairs well with a wide range of outfits and environments — from romantic evenings to red carpet events. Alternatively, our flat caps offer a unique, comfortable way to make you stand out in any crowd!
To get a better idea of all that Bellissimo Hats has to offer in both spring and summer hat wear, check out our entire collection by clicking the Shop Now button above!
The Fox combines quality materials with expert craftsmanship, delivering one of the best wide brim fedoras from any brand. The elegant design recalls the classic fedoras of decades past — with a distinctly modern flair. Perfect for a night out on the town, The Fox serves as an expression of your personal style, elegance, and class.
In addition to its signature brim and color palette, The Fox is a 100% rabbit fur felt fedora. This ensures a snug fit that can accommodate any wearer. Though rabbit fur fedoras are excellent choices for colder climates, they are breathable enough to be worn just about anywhere, without sacrificing comfort.
Finally, it's important to note that The Fox is truly made to last. The stylish crown and brim will not lose their shape — even with extensive use — ensuring that you can wear your fedora for years to come. This is part of the reason why The Fox and other Bellissimo Hats are so popular. They are more than just hats; they are investments in your future. To learn more about The Fox or to purchase a made-to-order fedora hat of your own, be sure to check out The Fox product page.
Why us?
We're committed to delivering a quality product that you'll love.
Come say hi!
Shop our entire lineup of fine hats in store, get styled, fitted, and meet our team.